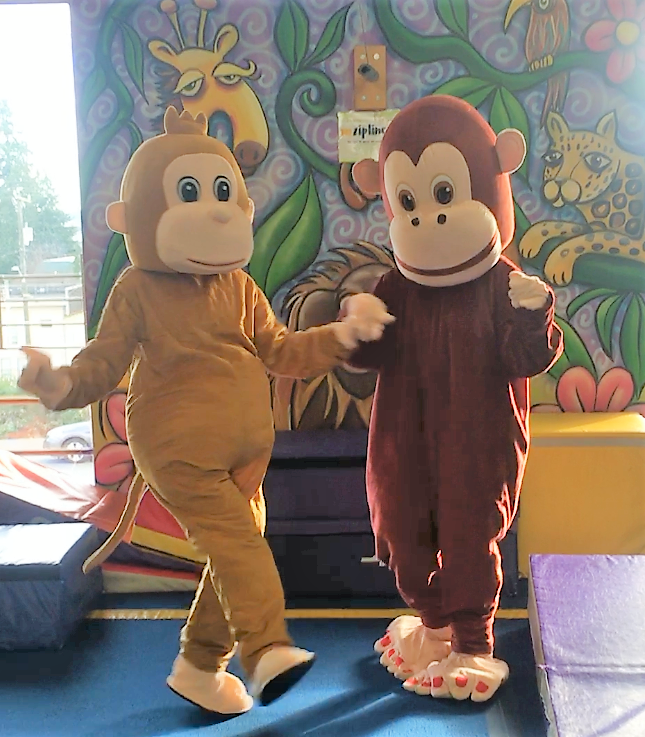 BIRTHDAY PARTIES
Take the stress out of party planning and let us give your child the royal treatment. The birthday child and guests can enjoy free play, wind their way through a giant obstacle course, bounce on our tumble track, soar across the gym on the zip line, climb the wall, swing on the trapeze and explore in the jungle. Age appropriate activities and free play round out the event to ensure everyone leaves with a smile.
Our parties are one hour and 45 minutes of gym and party room fun. We'll take care of the entertainment, festive party room and clean up, and all you have to bring is refreshments any paper products for serving. The Jungle Gym is the perfect party place for kids from their first birthday to their 12th!
Let us know if your child has any special interests and our coaches will do their best to add some fun activities to go along with their interests, like space, fairytale, or ninja warrior to name a few! Our party room decorations include tablecloths with polka dots, a few large balloons, and a monkey sign that says Happy Birthday to your child. Unfortunately we do not have any decorations or supplies that are theme related, but feel free to bring any additional decorations and paper products of your choice.
DETAILS
Our parties are one hour and 45 minutes. Time may be added for an extra charge if the schedule allows, only for the last party of the day (usually the 6:00 party on Saturday and the 5:00 party on Sunday). Please let us know in advance if you would like to add time to your party. We can accommodate from 2 to 30 kids. Keep in mind that 30 kids is the maximum! See below for pricing breakdowns. The party room also includes a fridge, freezer and microwave. We have kid size chairs and tables. Some limited adult seating can be arranged. We do not have any highchairs, but you are welcome to bring what you need.
Please bring refreshments of your choice and any plates, napkins and utensils you may need. For a 20% discount, order from Round Table Pizza for delivery; just let them know it's for a Jungle Gym party. Our parties are semi-structured for optimal fun, with activities and free exploration time! However, it's your party, so feel free to let us know if you would like more free play or more structure at any time. When booking your party, let us know about how many kids you will be expecting. You can update this information as you receive RSVPs and the party date gets closer by calling or emailing us.
PARTY PRICES
$220 for 12 kids or less (includes 1 party leader)
$275 for between 13 and 18 kids (includes 1 party leader and assistant)
$330 for between 19 and 24 kids
$385 for between 25 and 30 kids
There will be a minimum $120 deposit with your reservation. When making your reservation, count the number of KIDS between 7 months and 15 years that you expect to attend the party including the birthday child(red) and select the appropriate range. Adults and babies under 6 months are free! If you get more or less RSVP's than you expected, you can call us to change the range of kids coming.and it bumps you into a higher or lower range of kids, please let us know so we can adjust accordingly. Call us or we will call you about a week before your party to answer any questions and for the payment balance. If more kids come than you expected, there will be an additional balance due of $20 per additional child over the maximum in your reservation.
EXTRAS
$30: Jungle Bounce House: A fun addition to any party, the bounce house will be set up for the first hour of the party and features a long slide.
$30 for one or $50 for both: Bongo and/or Mango the dancing monkey mascots: Invite Bongo and/or Mango to join the party for some dancing, photo ops, and of course hugs and high fives!
$45: Piñatas are available at the gym, filled with candy. You may bring your own piñata for a $10 set up fee.
$25: Double Party: You can celebrate for 2 birthday kids!
Occasionally, if there is no party scheduled after yours, extra time may be available for an additional fee. If you're having too much fun, ask your coach if you can stay awhile. Pricing: $100 per hour for up to 12 kids, $125 per hour for up to 18 kids, $150 for up to 30 kids.
WAIVERS
It's mandatory that we have an electronic waiver on file before your child participates at The Jungle Gym. You and your guests can save time by clicking the waiver link below and follow the directions to our Mindbody store. Just create a profile, and check the waiver box, and add your children to save time on arrival. Or you can register when you arrive at the gym. You only have to do this once.
REVIEWS
From Survey Monkey, Google and Yelp:
"Great! My son said that the kids at school who had attended his party said that they had had lots of fun, and that it was the BEST PARTY EVER (his emphasis). :-)"
"It was great, no fuss and stress free."
"We all had a great time and have been telling everyone about it."
"The games and activities were super fun for the kids. Fantastic _ everyone had a great time!"
"We had an absolute blast at Alivia's party! The kids loved it AND the parents loved it. It was worth it! Thank you Kevon and staff!"
RESERVATIONS
Click the party reservation link below to check for availability on our scheduling site and to make a reservation. You can also call the gym to make a reservation: 206-248-3547.
Click the PARTY POLICIES link to view important information to prepare for your party day.
PAYMENT POLICIES
You can reserve your date with a $120 deposit, or pay in full. The balance, including any extras is due before your party date.
Cancellation Fees:
$30 charge if cancelled more than 4 weeks before your party date.
$60 charge if cancelled less than 4 weeks before your party date.
$90 charge if cancelled less than 3 weeks before your party date.
$120 charge if cancelled less than 2 weeks before your party date.
Reschedule Fees:
Date or time changes to your party date may be made without charge up to 4 weeks before the party date.
$30 charge to make date/time changes less than 4 weeks before your party date.
$60 charge to make date/time changes less than 3 weeks before your party date.
$90 charge to make date/time changes less than 2 week before your party date.
The Jungle Gym 206-248-3547
jungle.gym@comcast.net
15220 2nd Ave SW Burien, WA 98166